India's Most Expensive Electric Scooter: India's leading two-wheeler manufacturer, TVS Motors, has finally launched its new electric scooter 'TVS X' after a long wait. With an attractive look and a powerful battery pack, this electric scooter is priced at 2.5 lakh rupees (ex-showroom), making it the most expensive electric scooter in the country. Apart from its high price, this electric scooter comes with some features that you will see for the first time in this segment. The company unveiled this scooter during a global event in Dubai.
The company has given this scooter a very sharp and sporty look and design. It has been completely built on a new platform, using a high-quality aluminum frame that the company has named the 'TVS Xleton' frame.
The company claims that this frame will set a benchmark in terms of strength and quality in the industry. TVS X features the Ram Air Cooled motor, which is introduced for the first time in this segment.
India's Most Expensive Electric Scooter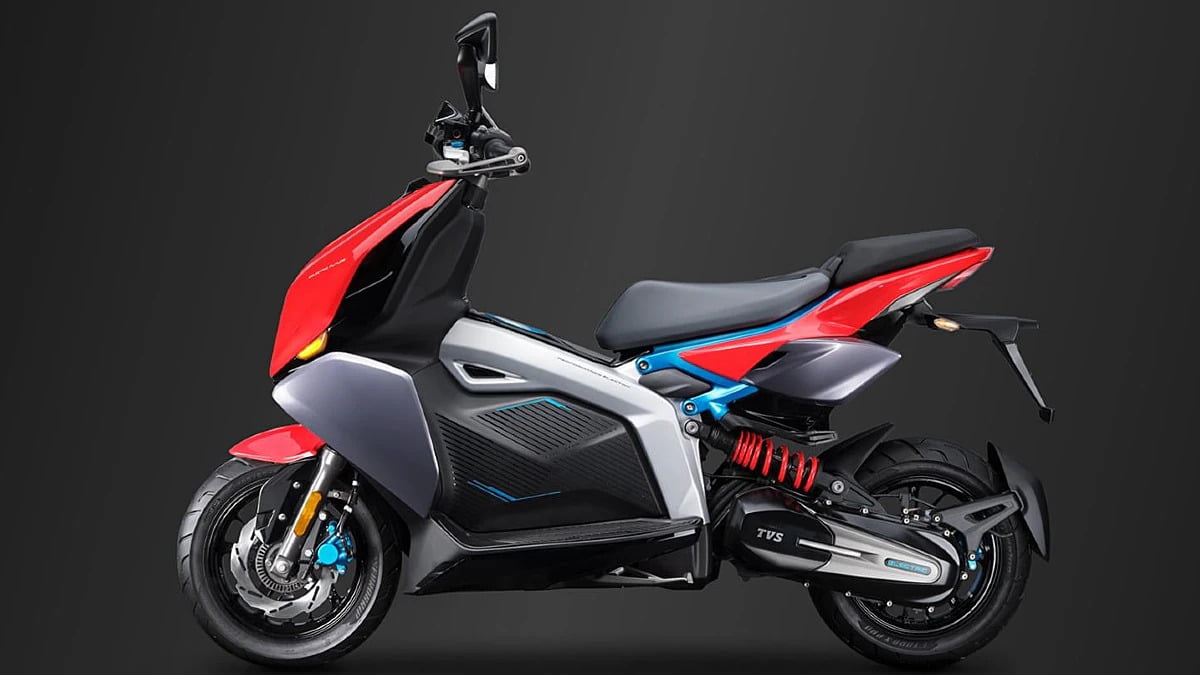 The TVS X electric scooter uses a 4.4kWh capacity battery pack. Additionally, this scooter is equipped with a PMSM electric motor that generates a peak power of 11kW and an impressive torque of 40Nm. The company claims that this scooter provides a driving range of up to 140 kilometers on a single charge.
Charging Time
With a 3kW fast charger, the battery can be charged from 0 to 50 percent in just 50 minutes. On the other hand, using a 950W rapid portable charger, the battery takes around 4 hours to charge up to 80 percent.
Braking and Hardware
The scooter features a 220mm disc brake at the front and a 195mm disc brake at the rear. Notably, it comes with an Anti-lock Braking System (ABS) that provides balanced braking even during high speeds. It's the first electric scooter in the country to feature ABS. The scooter rides on 12-inch wheels with a 100-section tire at the front and a 110-section tire at the rear.
Speed in 2.6 Seconds
The company claims that this electric scooter can reach a speed of 40 kilometers per hour in just 2.6 seconds. It offers three riding modes including Xtelth, Xtride, and Zonic.
Maxi Style Design
As mentioned earlier, this scooter has been built on an entirely new platform, giving it a maxi-style design. The seat height is 770mm. The scooter's Permanent Magnet Synchronous Motor (PMSM) adds to its uniqueness, utilizing the Ram-Air cooled technology.
Features
The TVS X electric scooter is equipped with a tiltable 10.2-inch TFT display that can be adjusted to the desired angle by the rider. The display provides access to various functions.
Connectivity Features
It features Bluetooth connectivity, allowing you to connect the scooter to your smartphone. This feature can be used for music or navigation purposes as well. The scooter also offers features like reverse assist, cruise control, and hill hold.
Unique Storage:
Unlike regular scooters, this scooter does not have a floorboard. Instead, it comes with a frame. Under the seat, there's a 19-liter under-seat storage space where you can keep your essentials. The split seat setup makes this scooter even more special in several aspects. This sporty and innovative design is unparalleled in any other scooter so far.
Booking the Scooter
If you wish to purchase this electric scooter, bookings have already started and can be made through the official website by depositing 5,000 rupees. After booking, the company will contact you to provide further information about the process.
Subsidy and Delivery
The company will begin delivering the scooter from November onwards. Initially, the delivery will start in Bangalore and then extend to other parts of the country by March 2024. The first 2000 customers will receive a smartwatch. This scooter is not eligible for the FAME-II subsidy, and its price is 2.50 lakh rupees (ex-showroom).
Also Read:– Bray Wyatt Former WWE Champion Bray Wyatt Died At The Age Of 36