Elvish Yadav, the winner of Bigg Boss OTT 2, has claimed to have received 280 million votes in the last 15 minutes. A video of his on social media is going viral in which he makes this claim.
Elvish Yadav: Rising Star and Bigg Boss OTT 2 Winner
YouTuber Elvish Yadav has made history by winning 'Bigg Boss OTT 2'. He is the first wild card contestant to take home the Bigg Boss trophy and a prize of 25 lakh. Along with this, his fans are claiming that he has "hung" the system. Elvish has also proved that strong determination and self-confidence can indeed lead to success.
Elvish Yadav's historic victory has won the hearts of millions. After winning the show, a video of Elvish has gone viral on the internet in which he claims that within 15 minutes, he received votes from how many people, stunning his fans.
Unveiling the 280 Million Votes Claim by Elvish Yadav
In a viral video, BB OTT 2 winner Elvish Yadav, in a dashing black outfit, states that Jio Cinema has officially informed him that he received 280 million votes within just 15 minutes. Elvish says in the video, "The whole scene ended, I went inside, and the head of Jio, who owns the entire show, the owner, he said, 'Do you know how many votes you received in 15 minutes?' I asked how many, and he said, '280 million.'"
Netizens React to Elvish Yadav's Claims
As soon as the video went viral on social media, fans' mixed reactions started pouring in. One user wrote, "Maybe he misunderstood, perhaps it's 2.80 million." Another user commented, "This realization gives goosebumps." Another wrote, "66 lakh people are watching, where will we see 28 crore?" Yet another user said, "Joke of the Day."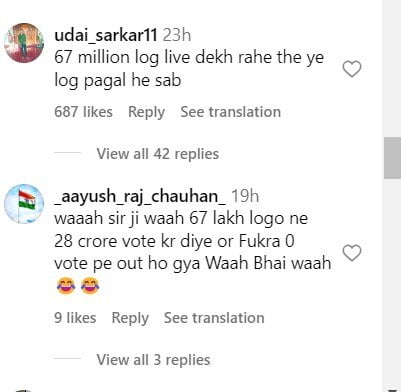 On the other hand, Elvish Yadav's devoted fans are celebrating his historic victory in Bigg Boss OTT 2. Elvish has also expressed heartfelt gratitude to his fans on his official Instagram handle.
Also Read: Elvish Yadav Girlfriend Beats Heroine In The Beauty See Pictures