New Delhi. Team India's winning streak continues in the World Cup 2023. India won the match played against England in Lucknow by 100 runs. Jasprit Bumrah, Mohammed Shami and Kuldeep Yadav all three bowled brilliantly and defended the target of 230 runs. The England team collapsed for just 129 runs. Shami took 4 wickets, Bumrah took 3 wickets and Kuldeep took 2 wickets. However, during the match, a video is going viral, in which captain Rohit Sharma is seen scolding Chinaman bowler Kuldeep. Let us know why the captain did this.
What is the truth of the viral video
The reason for Rohit Sharma scolding Kuldeep Yadav is the bowler's mistake regarding DRS. The 22nd over of England's innings was bowled by Kuldeep Yadav. Liam Livingstone made a mistake on one ball of this over and the ball went straight to his pad. Despite the appeal, the umpire did not give Livingstone out. At that time India had two reviews left but Kuldeep did not show any interest and Rohit also did not take DRS. After the over, the replay was shown on the big screen, in which the ball was hitting the leg stump.
Kuldeep got scolded by Rohit for not taking DRS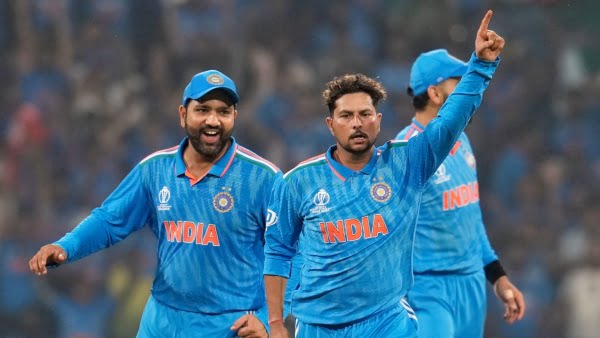 Read Also :-   Hardik Pandya will not be able to play in the World Cup? There has been both good and bad news
Regarding this matter, after the end of the over, Rohit scolded Kuldeep because he did not insist on the captain for review. If he had done this, he would have got the wicket of Livingstone. Well, India did not have to bear the brunt of this because it was Kuldeep who dismissed Livingstone in the 30th over of England's innings. He took 2 wickets for 24 runs in his 8 overs.
India is the only team in this World Cup which has not lost yet. India has won 6 consecutive matches and Team India's next match is against Sri Lanka at Wankhede Stadium in Mumbai on Thursday. If India wins this match then it will reach the semi-finals.